Sound control on the Remote Desktop, easier than ever before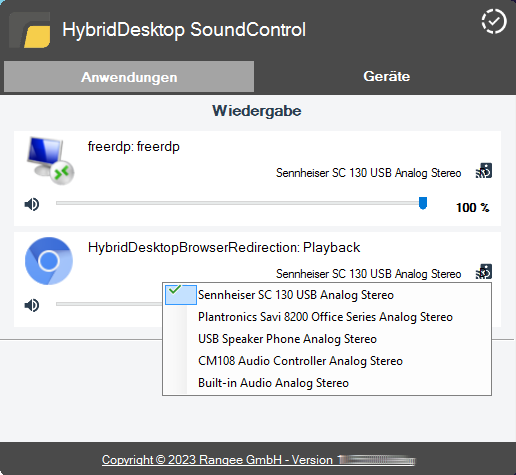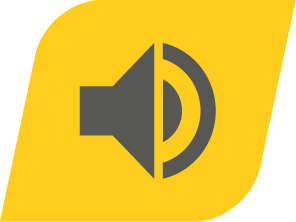 When establishing a remote connection, the client's local standard input and output devices are set as audio input and output and only the single remote audio is offered in the server session. Users in the field know the problems of controlling remote audio correctly. To change the devices, they must be reconfigured, including a restart of the session.
In an ordinary and difficult-to-administer local Windows environment, it sounds easy to control the sound of my devices, but for the secure remote desktop, there has been no adequate solution until now. The management in the remote desktop is not mature and switching between local and remote environment is annoying.
HD SoundControl is a remote application that is easy to install on the server and allows without any problems completely "on-the-fly" control of local audio devices. That's all it takes. The user interface appears by clicking on the SoundControl tray icon in the user's taskbar, just like a "familiar" Windows workstation, and off you go! The user can now control the device allocation just like the volume at any time as required. An added value for any remote desktop user, switching between audio devices within the server session has never been easier.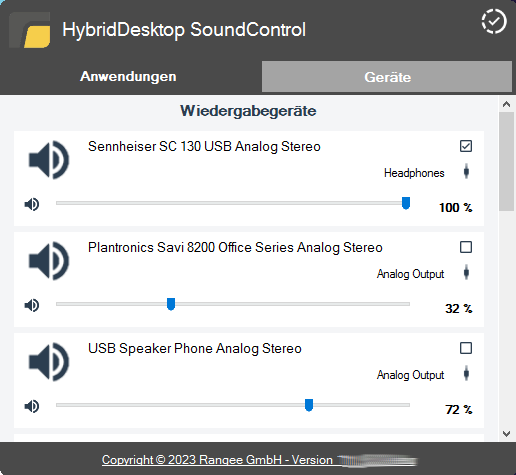 Insight into SoundControl
Do you have any questions?
Fill out our contact form and we will get back to you as soon as possible with the appropriate answers. We will also be happy to call you back if you wish.
Support
You have a technical problem? Our support team will be happy to help you. To do this, please open up a support ticket.